How To Protect An Industrial Metal Roof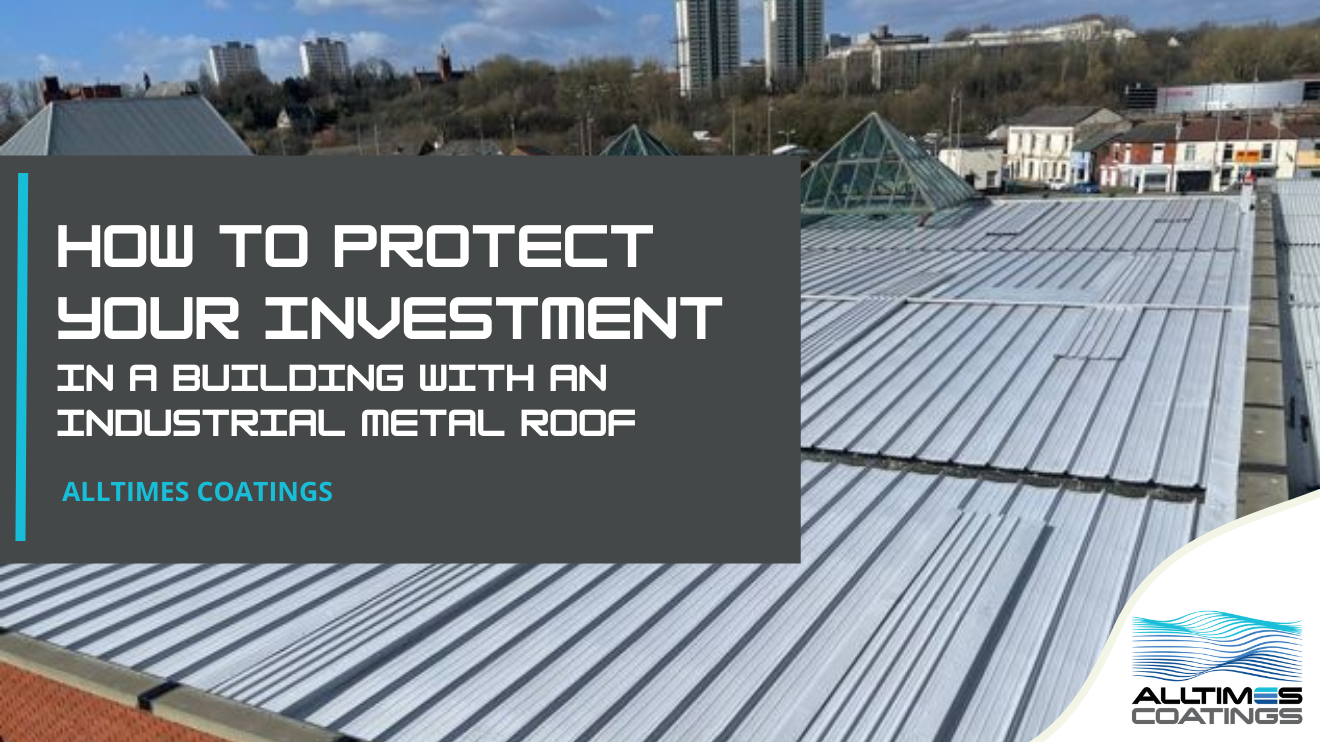 Your roof is the first line of defence against the weather. It can often get overlooked, because let's face it, on large buildings you can't see it - out of sight out of mind. However, if left unmaintained in can corrode and not only will it start causing problems with leaking and safety issues, but it can also corrode beyond repair and need full replacement – causing greater expense and periods of unuse.
It's not uncommon for us to be called upon to survey a roof because millions of pounds have been spent on the internal fit-out before the roof has been fixed. Water ends up dripping on refurbishment work, new ceilings and sometimes very expensive equipment. It's advisable to always work outside in.
Dealing with deteriorated roofs – whether they're rusted or corroded – can be a complex and expensive issue for any leaseholder
Problems and solutions to deteriorated Industrial Metal Roofs
So, what problems do industrial metal roofs normally face and what can you do to stop them? Here we'll briefly outline some of the common issues.
Dirt and Debris
Dirt and debris (such as leaves, moss, and bird droppings) often collect in the gutters or corner areas of a roof. Over time, this can hold moisture close to the metal, making it vulnerable to corrosion. Upkeep with regular maintenance is the best way to avoid this problem – once your roof has been treated with a coating that will last.
Cut Edge Corrosion Under Sheet Laps
One of the worst things about Cut Edge Corrosion (CEC) is that you don't see the worse of it until it's too late. But, if left untreated, CEC can lead to irreparable broad damage to your or your client's roof. Where the sheets overlap, water collects under the sheets causing capillary action that can take the water up a long way – way beyond what you can see. We've written a guide on treating CEC – take a read here.
Using silicone mastic to the overlaps has been a preferred choice for treating CEC, however, there are better alternatives. There are often instances where, due to its weak adhesion, the silicone can break allowing moisture in, and believe it or not, make it very attractive to birds to peck away at it.
Areas Of Weakness
Fixtures, bolts and overlaps are all areas of weakness that leave untreated areas of a roof exposed and vulnerable to corrosion. This is normally where corrosion starts to spread. Putting a halt to it means paying particular attention to these areas, ensuring that preparation is thorough. Here is where specialist primers such as a Graphene primer pay big dividends. Take a look at this gutter 'before, prepared and after job' below - protecting the fixings.

Gutters Leaking
Gutters are held in place with bolts and these cause areas of weakness, not only from the exposure of bare steel through the holes but often through galvanic corrosion, where steel and zinc come into contact. After a thorough clean, any areas where corrosion has started a specialist anti-corrosive primer must be applied. A strong sealant is applied into the joint and around the fixings prior to coating the gutter and ensure longer-lasting protection.
Roof Lights
Rooflights are often neglected and over time, they lose their surface coating, which allows the retention of dirt. They can get so dirty that often roof lights can't be seen from above and the light coming through diminishes. However, they don't always need replacing if high quality, clear coating is used after a thorough clean.
Believe it or not, the answer doesn't just lie with a great product since every roof issue is different.
You need to work with a roof coating company that will support you in finding the right solutions – which includes contractors, products and expert advice. This will involve communication at the start and throughout the duration of your project.
The longest warranty offered on a roof coating system - matching that of some re-roofs. The system is very easy to apply and has a really nice flow and durable finish. Great customer service and in particular technical knowledge.

M. Hallwood, Cladding Coatings
Things to think about
The 'Hidden' Cost of Cheaper Materials
Don't be fooled by a cheap upfront cost. Most coatings contain fewer solids. This means higher VOCs, which reduce the coverage of the product. These products are, at best, unreliable, meaning more material is needed to get the job done, and they simply won't give you the long-lasting coating you need.
I have been really impressed with the Advantage Graphene system. It's really straightforward to use, has provided a fantastic coating finish and has given me the reassurance that it is providing a long-lasting solution for my clients.

D Knight, Comm Commercial Roofing & Cladding
Transparency is key
Your roof coating partner should highlight what they can and can't do for you. For example, if your gutters need lining and your coating partner doesn't offer this service, they should be upfront. The last thing you want is for them to recommend a coating that won't work.
Product or System
Of course, a great product is key. Opting for a hybrid coating with added graphene is undoubtedly the best solution. One of the smallest materials currently known, it contains tiny particles of carbon.
These are added to the metal primer and topcoat, significantly enhancing corrosion resistance. In its purest form, it is stronger than steel, lightweight and thinner than any other material. This simply means a better roof coating system. Less product required, a single application, all-year-round usage and superior corrosion resistance. That's why our Advantage products come with lengthy warranties.
Budget
If budget is tight, your coating partner should consider this. It may mean treating more troublesome areas (like CEC) first, before delving into the wider issues later on in the project.
The Working Window
This can be hugely impacted by the weather, and certain coatings can only be applied in dry, temperate conditions. Additionally, some products take longer to apply and cure – meaning more manpower and more resource (for example, scaffolding) is needed. To overcome this, you should select a roof coating that can be applied quickly, all year-round, whilst offering a shorter cure time. We strongly recommend checking out our
Advantage Graphene for Metal Roofs
range, which can be applied to any metal structure in one, single application.
Do you need help protecting your metal roof?
If you're dealing with dilapidations, the team at Alltimes Coating are on hand to provide you with technical support and guidance. Call us on 01453872850 or fill out the form at the bottom of this page and an expert will be in touch.
We've worked with Alltimes and the Advantage Systems on many Metal and Asbestos roof jobs - not only is the product the best we've used for ease of application and performance, but the team are always very helpful, responsive and knowledgable.

Approved Contractor, Independent
Further Reading
The Ultimate Guide To Cut Edge Corrosion (and how to fix it)
Metal Roof Overlapping: To Seal or Not to Seal
Why Millimetres Matter with Roof Sealant Applications