The Ultimate Guide To Cut Edge Corrosion (and how to fix it)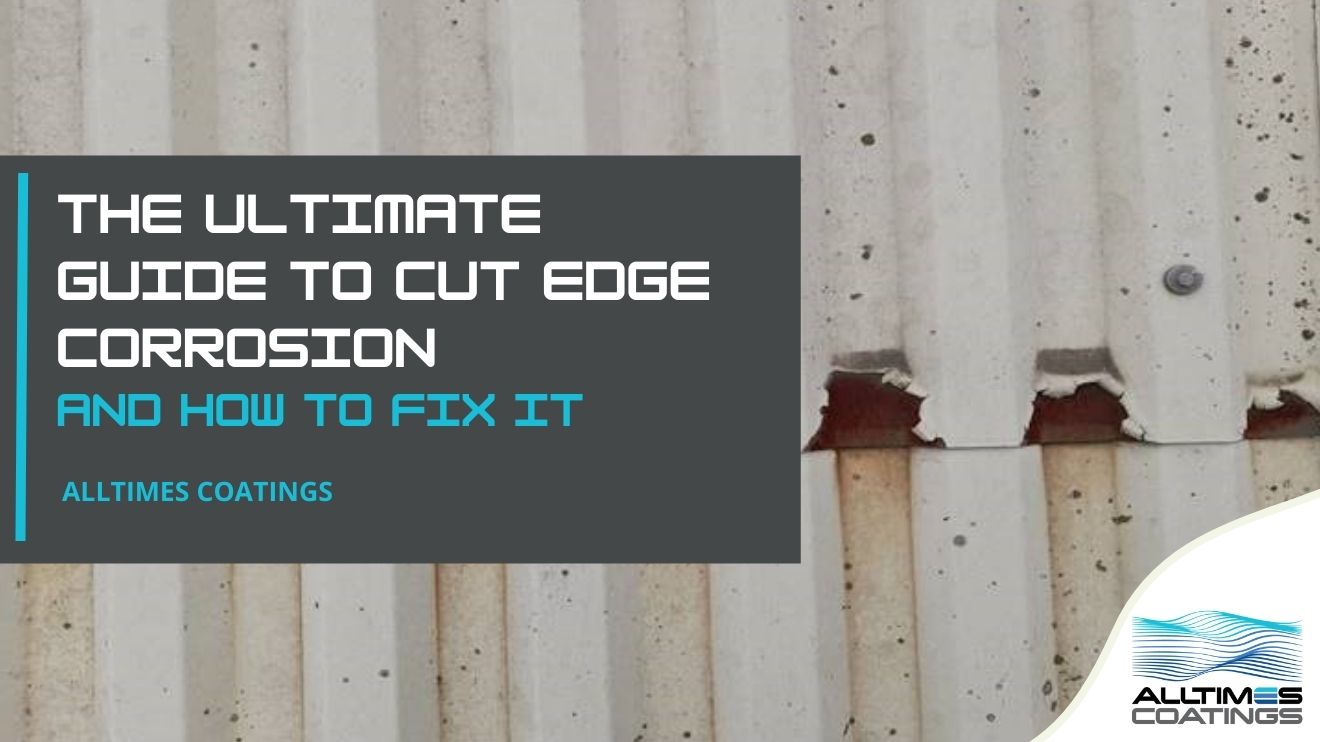 One of the most common problems found on industrial (metal) roofs is cut edge corrosion (CEC), which occurs on the sheet laps and sheet ends of profiled metal roofs.
Not only is it an eyesore, but if left untreated, it will eventually rust through, causing leaks, potentially beyond repair. The impact can cause significant financial strain to you or your client. So, it's crucial you treat CEC effectively.
In this post, we aim to help you understand what cut edge corrosion is and explore the best ways to treat it.
Read on…
What Is Cut Edge Corrosion And Why Does Cut-Edge Corrosion Happen?
During manufacture, roof sheets are normally pre-finished and cut to length according to the building layout – and it is on these sheet ends where corrosion normally starts. After all, this is the most exposed, untreated area of the roof sheet.
But what makes Cut Edge Corrosion such a common issue? And most importantly, how can we fix it?
What Causes Cut Edge Corrosion on metal roofs?
As we've already highlighted, cut edge corrosion occurs during the manufacturing stage – where sheet ends of a metal roof are left untreated.
So, it actually starts before even leaving the factory.
But weathering is what accelerates the development of cut edge corrosion on all areas of metal roofs. Corrosion is inevitable, but when water holds around these sheet edges, it speeds up. On top of this, wind and capillary action takes the water into the overlap - and corrosion inside the lap is far worse than the external surface rust. The image below demonstrates this.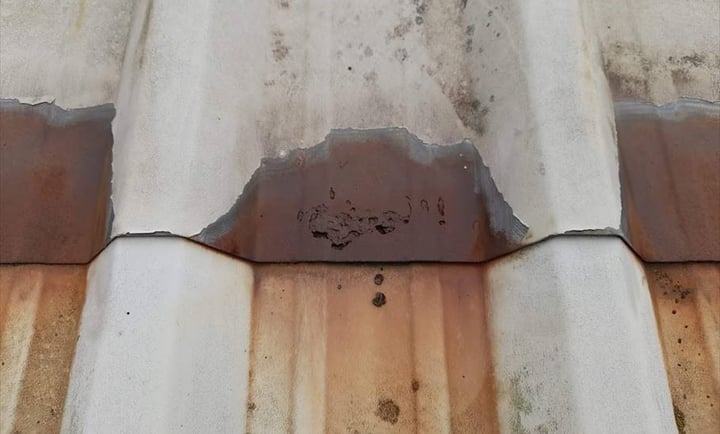 Many other factors accelerate corrosion. These include (but are not limited to) salty air near coasts, local contamination, dirt and organic growth, localised climatic conditions.
So, once cut edge corrosion starts, you are on a downward rusty spiral.
What is The Impact of Cut Edge Corrosion On Metal Roofs?
Over time, cut edge corrosion can take its toll, impacting the metal roof's integrity, potentially resulting in a full roof replacement, with significant financial implications for you and/or your client.
Yet, it is not just the metal roof where Cut Edge Corrosion can leave its damaging mark. Cladding, gutters and other metal sheets are all vulnerable to this type of damage.
What is the Impact of Cut Edge Corrosion on Cladding?
Cladding is commonly used as a protective layer for wall panelling on commercial buildings. Much like roof sheets, these cut edges can also be exposed to the elements and are subjected to moisture build up, especially where they are designed to sit in a trough.
What Is the Impact of Corrosion on Gutters?
Metal guttering also succumbs to cut edge corrosion. The rust almost always starts at the joints and just to complicate it more, there can be galvanic corrosion. This is where two different metals are in contact with each other – for example, the zinc galvanized gutter and mild steel fixings.
Additionally, if gutters are blocked by debris or are poorly fitted, moisture can penetrate through exposed metal edges – which could, in turn, affect other parts of the building.
What Are the Best ways to Prevent Cut Edge Corrosion?
In an ideal world, treatment should be applied to the cut edges (by way of a protective coating system) during the construction phase of a project. This rarely, if ever, happens in practice. And we're called to a job once the cut edge corrosion has occurred.
So, it's crucial you find a product that treats the cut edge corrosion to extend the life of your roof, gutter or cladding system. An efficient sealant - when applied on to the overlaps of the metal roofing – will prevent capillary action. In simple terms, it will prevent the water from spreading up between two sheets.
Of course, the right sealant and the right application has a significant role to play. There are many different ways to seal sheet laps, such as using mastics and tapes. However, one of the main reasons why lap sealing fails is because of the strength and flexibility of weak silicone mastics or tapes that are known to lift on the profile corners. Put simply, this treatment can be unreliable at best.
What is The Best Way to Treat Cut Edge Corrosion?
A very strong sealant and a hybrid coating with added graphene is the best way to treat cut edge corrosion (or any type of corrosion for that matter). As one of the thinnest but strongest materials in existence, graphene will help to form a virtually impenetrable barrier to moisture. When combined with a hybrid coating, you get a system that is unlike any other coating on the market.
However, all coating projects rely on a proficient applicator – which leads us to our next point.
Mistakes People Make When Treating Cut Edge Corrosion – #1 Insufficient Training
It is imperative that those applying any sealant to treat or prevent cut edge corrosion are trained properly. There is no such thing as a 'magic product' that will solve all your woes – all on its own.
Instead, you need to ensure your team are fully trained and consulted before works begin. At Alltimes Coatings, we'll come to your premises and provide your team practical training, and continual support through the duration of your project.
A well-trained team will not only solve your cut edge corrosion issues, but they'll save you money in the long run. If you want to learn more about what we mean here, take a look at our post, 'Why millimetres matter…'
Mistake #2 When Dealing with CEC: Inadequate Preparation
Aside from insufficient training (and perhaps as a result of insufficient training), applicators will sometimes fail to prepare the area adequately. We explored this in a recent post, but to summarise, your cut edge corrosion treatment process should involve cleaning and preparation before eventually applying the coating to the roof.
For added protection we always specify a graphene enhanced anti-corrosion primer to areas that rust has already started.
Failure to prepare the area could result in the coating not bonding fully to the substrate – meaning more time and money wasted.
Final Thoughts
Cut edge corrosion is treatable. You just need to ensure you're using the right product and your team have been trained appropriately.
Support begins way before works start on site. If you're a contractor, we'll help you get the right product into the right job, with the right support.
And if you're a specifier, you'll get access to a range of specification tools – giving you confidence that you're making the right decision at every stage of the project.
Above all else, though, our Graphene Enhanced Cut Edge Corrosion System outperforms every CEC treatment on the market. The addition of graphene makes it a truly remarkable product, and one that contractors use time and time again. Once you use our graphene coatings, you won't look back.
Feel free to speak with an expert to find out more about our cut edge corrosion treatment – or any of our Advantage Graphene products.
Further Reading
If you found this blog on Cut-edge corrosion interesting, you may also like to read