Metal Roof Protection: How Graphene Enhances Coatings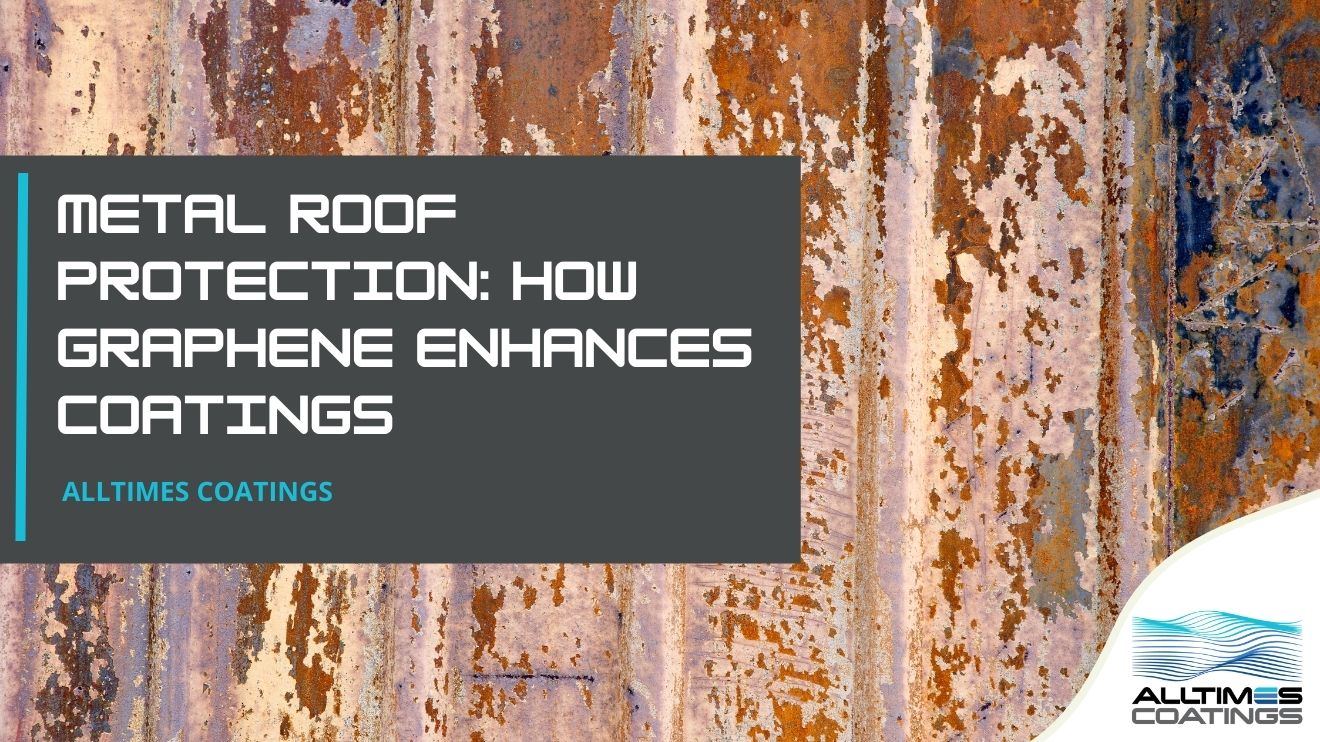 Advantage Graphene is revolutionising the metal roof coatings industry! Graphene has many unique properties but when added to a superior protective hybrid coating like Advantage it increases the resistance to corrosion making it a superior and impenetrable coating.
The chemical structure of graphene is the key to its amazing characteristics. It has a 2D hexagonal atomic structure which means it can form layers with an immense surface area which is hugely beneficial in a hybrid metal roof coating.
In this blog, we will discuss all the key benefits graphene provides to metal roof coatings and how its addition to the Advantage hybrid coating system is making waves in corrosion control on industrial metal roofs.
Superior Metal Roof Protection
Graphene has incredible chemical characteristics which can enhance traditional metal roof coatings by providing a superior barrier between the metal and the air. Even better, it also strengthens the bond between the coating and the metal meaning the graphene coating is so much longer-lasting than conventional coatings.
The science behind this technology is that the layers of graphene create a much larger surface area that multiplies the distance that the water and dirt molecules have to travel to pass through the coating by hundreds of times.
Due to its 2D atomic structure, you can get hundreds of layers of graphene in the same thickness of that of a single lamina flake found in a standard roof coating. For example, if we wanted to create the equivalent level of resistance of graphene in a lamina flake coating, we would end up with a coating that was nearly 20 times thicker.
This corrosion resistance is demonstrated by the results of extensive testing carried out on Advantage Graphene. Salt box testing, which simulates extreme weather conditions, revealed corrosion-free samples even after 10,000 hours. This is in comparison to the 1,500 hours of testing that coastal coatings are meant to withstand in order to be approved.
Environmentally Friendly Metal Roof Coating
Many conventional roof coatings are not very eco-friendly due to the vapours and toxicity of the ingredients. However, Advantage Graphene is 100% solids so releases nothing into the atmosphere.
Each tin of Advantage Graphene coating, therefore, covers more surface so much less coating is needed, reducing the need for excess raw materials, packaging and shipping emissions. For example, one tin of our Advantage Graphene can coat the same amount of metal roof as 6 tins of a typical polyurethane coating.
Advantage Graphene is solvent and VOC free due to being 100% solids making it the more environmentally friendly coating choice. It is also isocyanate-free and odour free so much less toxic and difficult to work with.
Long-Lasting Metal Roof Coating
Graphene is an incredible enhancement to traditional metal roof coatings, the most important being that it improves the life expectancy of the product dramatically while maintaining the almost impenetrable barrier it provides to metal against corrosion and rust.
At Alltimes Coatings we provide a 30-year product warranty and a 10-year latent defects insurance on our Advantage Graphene roof coating.
Longer life expectancy means reduced maintenance and replacement costs. There is also the environmental impact of having to replace and dispose of corroded metal repeatedly when you can just use a stronger and superior coating. According to data from the Financial Times, corrosion in its many forms is estimated to cost the global economy $3 trillion a year.
We know that corrosion and rust can be a nightmare for any building owner because the costs and disturbance of treatment or replacement can be greater than first anticipated. That is why corrosion treatments and coatings are so important in the fight against rust.
Conclusion: Choose Advantage Graphene Metal Roof Protection
Graphene is an incredible material and has exponential benefits, especially within the coatings industry. It provides unparalleled protection from rust and corrosion to all metal surfaces whilst still being easy and convenient to apply. Graphene has enabled the roofing coatings industry to take an enormous step forward for innovation and technology.
Alltimes Coatings have developed Advantage Graphene as the solution to every industrial metal roof due to its advanced properties from the addition of graphene into its hybrid technology. Alltimes Advantage is the most advanced and protective roof coating on the market.
Keen to learn more? Check out our latest CPD: Rust Never Sleeps by clicking the link below, or call an expert today on
01453 872850.